Product
The Original 
Backpack style sustainable material jacket for toddlers on the
GO
This is the one jacket that small toddlers would love to
carry on their own shoulders
~ stewardship with delight ~
Product Features –
Water and Wind Resistant

2 Layered fabric for additional protection from the element

Made from sustainable, renewable material

Room for on-the-go storage of toys and snacks

BiModal – easily switch between jacket and backpack mode
Each limited edition jacket is crafted with pride and uniquely individually numbered.
Pack 'em Now !
This "Live Wisely" Collection eco GO Jacket is specifically created for toddlers, ages 2 to 5. The GO Jacket is designed with eco, sustainability and stewardship in mind, that combines functionality with style. eco GO backpack style Jacket for Toddlers is made from eco, sustainable, recycled material. Kids will love to carry their own jacket (this time) that can flip into backpack mode in seconds, with enough room in the back pouch for small toys or snacks. There are six vibrant colors in two sizes: Small (2-3 yrs old) and Medium (4-5 yrs old) to choose from:
For toasty fleece lining interior:
Crimson Red, Navy Blue, and Earthy Olive
For breezy mesh lining interior:
Bright Yellow, Husky Purple, and Lush Green
Distinctive colorful theme is adopted for each jacket to reflect the vibrant nature of our young ones.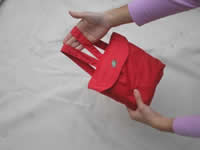 Jacket Folding Demonstration
Featured Product
The Original...GO! GlobO jacket- "a backpack style sustainable material jacket for families with children on the GO"
More info...